Courses
Finding ourselves in our Fifties
Our Fifties can be our most dynamic decade yet. We've gained wisdom, shown resilience and sensitivity and have so much to offer the world!
Join Claire Angeletti and I for a two-day workshop which offers the unique opportunity to come together to create a personal vision and action plan to make the most of this time in life.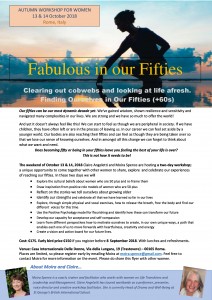 Enneagram Training
Courses on the Enneagram Personality Typing System provide an understanding of the system and each of the personality types. The course is designed to allocate half a day to each of the nine types with a half day consolidation at the end. Courses can also be tailored to meet specific needs.
Positive Psychology
Positive Psychology course can be run as stand-alone sessions or in combination with sessions on insights of the Enneagram. These courses help individuals to incorporate helpful evidence based positive working and behavioural techniques into their working and personal lives.
Presentations and lectures at work places and national and international conferences delivered on a range of topics connected to my expertise include:
Social and Emotional Aspects of Leadership
Building Resilience in the Workplace
Introduction to the Enneagram at Work
Stepping out of our personality boxes to 'Create History'.
Introduction to the Enneagram for Parents
The Dynamic Family: Differing in Perspectives and Focusing on Strengths
Children and Self esteem
If you would like discuss possibilities for tailoring courses or workshops to your needs, or  join my mailing list for information about courses and workshops that will be run, please contact me on moira@moiraspence.com.
Selected feedback from my courses

"I had hoped to achieve a new perspective on the 'way I see things' I got this AND much more."
"This course has made me a better person, I understand and like people better."
"I gained an understanding of different types of people, of my family and was able to let go of a difficult situation."
"I learned new things, understanding and seeing new points of view (and I got to relax once a week)!"
"Some very helpful techniques in combating negative thoughts; very helpful and useful information on dealing with others and some very helpful new habits to incorporate into my life."
"It erased some frustrations I've had with certain relationships."
"I wanted to thank you and compliment you again on the course of Positive Psychology in which I participated today. It was very interesting and extremely helpful. The way you taught us was in such a natural and professional way. Really really good. Thank you so much for today. It will definitely make a difference."